You know the old saying that you wait hours for a bus, then all of a sudden they all come together at once? This is what the athletics season has been like this year. No sooner were we allowed to resume training, the Galway Coaching series happened, then following very quickly was the Galway U9-U11 Championships, then more recently there has been the Galway U12-U19 Championships and finally the Galway Youth Championships.

In yet another departure from the norm this year, we saw the U12-U19 relays having their own separate date, rather than mixed in with the usually very busy day. This format worked very well and it will be considered as they way forward for future years. The U12-U19 competition also ended up being split over two days, to ensure all relevant COVID restrictions could be adhered to. The U12-U15 Championships took place on 3rd July, with the U16-U19 competing on 11th July.

At the younger age group we had a small team competing:
Robyn Gatay (U13): 60m, Long Jump
Grace Rice (U13): 60m, 600m
Alice Church (U14): 800m
Nessa Mangan (U15): 100m, 1500m
U12-U15 Championships Results are here

You would not have guessed this was Robyns first competition, as nerves did not show on the day. She gave a superb account of herself in both disciplines, beating off some much more experienced athletes from the more established clubs. Her background in gymnastics clearly helps in the long jump and with another year under her belt, next year could be very bright indeed. Our other team members also stepped up to the mark and performed well. I know some were disappointed with their times, but athletics is a progressive and learning sport. Nessa Mangan qualified for the Connacht Championships in the 1500m.

The bad days in athletics probably teach you more about the sport than the good days, and those are the days where the improvements are made. You will come back stronger, you will be more determined.

The U16-U19 Championships saw Athenry AC put out what will now be referred to as 'Team Ryan' as they are all training under the watchful eye of coach Ryan McNelis. For what was a small team, Sean Doggett, Bronagh Deeley and Liam Shaw they managed to return home with 7 medals between them. Sean was the star of the show in what was a breakthrough 800m for him. A well thought out race saw him make his kick at about 600m, and from that he never looked back and continued on strong to the finish clocking a really impressive 2:13,55, almost 1.5s clear of his nearest rival. Sean followed this up with a bronze medal in the long jump. Its always tough when you go into an event with 4 people, as you know someone is coming away without a medal, and Bronagh went into the 800m with that in mind. For her this strengthened her resolve not to be that person, and she romped home in third place to take the bronze. Bronagh added to that bronze with another in the hurdles. Given that we have had no time to go over hurdles in training this year, and with the loss of our usual hurdles training base, Bronagh should be happy with the time she got – we will work on that before the indoors. Hurdles was the first event for Liam Shaw, running for the first time over the longer 100m distance, with higher hurdles. This is not Liams most favourite event, and this may have been the last time we see him over the barriers (though we never say never). Liam then turned to his preferred event, the throws. Currently chasing a European U18 qualification standard, Liam put the shot out to 15.75m, setting a competition personal best (non-competiton PB is 16.45m). He then moved to the discus cage where he threw 5 foul throws before getting a good talking to from yours truly and also Masters throws supremo, Mary Barrett. Liam then put the disc out to 37.36m, a PB with the 1.5Kg disc. There is now a long wait to see if Liam gets the call up tot he Irish U18 team to compete in France on 31st July.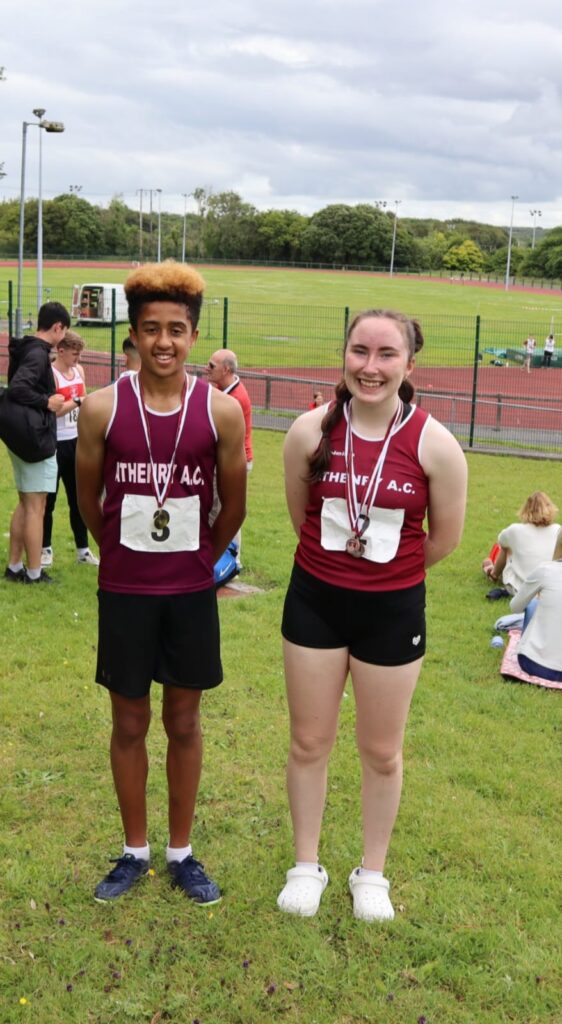 Sean, Bronagh and Liam will go again this coming weekend at the Connacht Championships, where progression to National is up for grabs.

U16-U19 Results are here

Just 24 hours after the U16-19 championships, a hastily organised Galway Youth Championships took place to assist athletes looking for U18 qualification. Liam Shaw again took place, running his first (and likely last) 100m in 12.77s, this was only done to assist another athlete. Liam did not improve on his shot put distance from the previous day, but did add a further 5m to his discus, with a final round throw of 42.54m.

Youth Championship Results are here